The Sinfonia Challenge Coin is presented free of charge in honor of fallen Brother Christopher Patterson (Kappa Sigma '10) to all Sinfonian brothers who are former or current military. Qualifying branches include the following:
Air Force
Air Force Reserve
Air National Guard
Army
Army Reserve
Army National Guard
Marine Corps
Marine Corps Reserve
Coast Guard
Coast Guard Reserve
Navy
Navy Reserve
The following is taken from the Sinfonia Resonance (Vol. 7, Issue 3)
---
Sinfonian Challenge Coins – Honoring Our Veterans
One of Christopher's choir directors was the sort of director that focused on technique and precision. She was good and her choirs performed well, but she was always looking for that perfection, until the day of Christopher's funeral. The a capella group Chris sang with at Valpo, VuVox, was there to sing and honor Chris and the music director heard them when they were standing around the piano just improvising and harmonizing. In her words "Their music was freely created, not exactly perfect at that moment, but they loved creating harmony together." She told my wife she realized music does not have to be so exact. She then went on to arrange a song based on Rachel Field's poem "Something Told the Wild Geese." The idea came when a formation of wild geese flew overhead just before the 21-gun salute and the funeral. From this sighting and what she heard listening to VuVox, she knew the sound and effect she wanted and then just "threw caution to the wind and wrote for the fun of it." Her final words on this, "Thanks, Chris, you taught me well."

- Brother Robert Patterson, Kappa Sigma (Valparaiso) '13, father of Brother Christopher Patterson, Kappa Sigma (Valparaiso) '10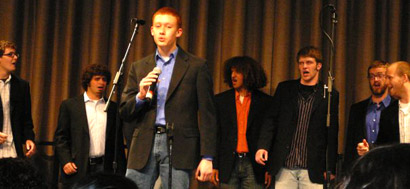 At the 2012 National Convention, John Mongiovi introduced the Challenge Coin program. The following excerpt is from his address:
Many of you know that a challenge coin is a tradition in some organizations, especially in the military. The origins of the challenge coin dates back to World War II when they were first used to help verify a person's identity. Today a challenge coin is a small medallion bearing the group's insignia or emblem and carried by its members. Traditionally, they are given to prove membership when challenged and to enhance morale. They are often presented in recognition of special achievement or on a special visit.
A brother of ours, Christopher Alexander Patterson, thought there should be a challenge coin for Phi Mu Alpha, and was working on a design for one before he lost his life in January of this year on active duty in the Kandahar Province of Afghanistan.

Christopher was initiated in October 2010 into the Kappa Sigma Chapter at Valparaiso University, where he was studying music education. Coming from a strong military family, Christopher enlisted with the Indiana National Guard and served as a 12B Combat Engineer with the 713th Engineering Company based out of the Valparaiso Armory. When his unit was activated, he did not have to go, but he chose to serve his country.
Christopher's intent may have been to start locally and possibly to see if it was something the national fraternity was willing to take on. So his father, Robert Patterson, contacted me in January to say that he and Christopher's mother would like to produce the challenge coins and present them to Sinfonians who are military veterans. The National Executive Committee approved this plan.
The final stages of this program have become a reality and the coins are now available for distribution. The hope is that this will bring Sinfonian veterans together with other brothers, so that we may honor our veterans in a uniquely Sinfonian way. With the exception of those who are on active duty – who can have them sent directly to them – coins can be obtained through chapters, provinces, or national events along with a special ceremony honoring our brothers' service.
The idea of sacrifice is such a strong force in the Fraternity, and that principle finds an unmatched outlet in the sacrifices made by military men and women.
At his memorial service at Valparaiso, the head of the ROTC cadre related one of the last runs Chris was on. "Running was not his strong point," he says, "but he always gave it his all. And on this particular occasion he was pushing exceptionally hard to the point where he finished in front of the cadre. Instead of stopping to rest and catch his breath, he turned around and ran back to the cadet in the back of the run to run with her and encourage her to the finish line. Chris had pushed so hard that as soon as he reached the back of the group he ended up getting sick, but then immediately caught back up and ran with the back of the group to the end."
Shortly after Christopher's death, the Patterson family received a letter from a cadet at Notre Dame, where the Valparaiso cadets trained. He told them of the time Christopher and he were out on an orienteering course. When the senior cadets refused to help this cadet, Chris stepped in and calmly walked him through the course, making sure he understood what they were doing. He has not met another cadet that truly cared so much about other people. "Chris would have been an outstanding officer," his father added to this, realizing that this sort of empathy and dedication were hallmarks of a true leader.
Sadly, or perhaps fortunately, there are thousands of veterans with similar stories. Sad, because the end is often tragic. Fortunate, because the bravery and character of these men and women are an inspiring example of what we can aspire to in our lives. The parallels with Sinfonian ideals need not be recounted in full; they are obvious and real as we examine the choices made by brothers like Chris.
Phrases like "He made me a better man" and "He was someone I looked up to" are phrases uttered by Christopher's fraternity brothers, but also his family, fellow servicemen and servicewomen. So while we honor a single brother and veteran, let's remember that the challenge coin program started by Christopher was to honor all of our servicemen brothers who have given of themselves. These stories of Christopher should remind us to look amongst our Fraternity to find those who deserve our thanks. In this way, the Challenge Coin program can be one that represents the best in our Fraternity, and is at once uniquely Sinfonian and American.
If you have questions concerning the Challenge Coin Program, either consult the instructions in the side bar, or contact the National Headquarters at questions@sinfonia.org. We hope this will be a lasting tribute to our brothers and veterans, and would like to thank Chris and his family for their immense effort in making this program a reality.